Off-Site Graduate Programs (OSGP) offers current and prospective teachers, school administrators, and counselors a range of opportunities from professional development to a certificate or master's degree in Education. Our graduate programs are designed for the working professional in mind. Our courses, offered throughout the year, are developed with condensed rich content through both in-person and online engagement.  Please see below for off-site programs and opportunities.
» OSGP Course Cancellation Policy
Continuing Education: Faculty Led Tour to Rwanda
Join fellow New Jersey educators, TCNJ alumni, and current students on a once-in-a-lifetime tour of Rwanda, East Africa. This summer 2024 Faculty-Led Tour will give participants the chance to experience this beautiful country, and to learn first-hand about the 1994 Genocide and the country's work to recover in the thirty years since.
Questions? Contact Dr. Matthew Bender (bender@tcnj.edu)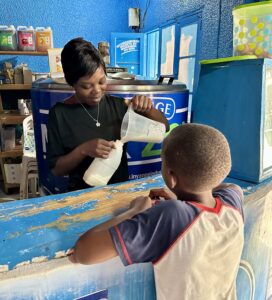 Program Dates and Highlights
Travel dates are July 19-August 3, 2024
Primary stay will be in Kigali, Rwanda (capital city) with an overnight stay at the Akegera Game Lodge. Selected excursions include:
Nyamirambo Women's Center
Kigali Memorial Center at Gisozi
Churches of Nyamata and Ntarama in Bugesera District
Avega Agahozo (Association of Widows of the Genocide)
Prison Fellowship Rwanda
Nyarubuye Genocide Memorial
Vision 2020 Community of Gashora
Ministry of National Unity and Civic Engagement
Youth Association for Human Rights Promotion and Development
Akegera National Park (two-day Safari)
Kimironko Market
Why Rwanda?
In April 1994, genocide broke out in this small country of 8 million people, with Hutu extremists targeting the minority Tutsi population and moderate Hutus. It lasted for 100 days and took the lives of nearly 1 million. In the thirty years since, the country has made tremendous progress in rebuilding, and now has one of the fastest growing economies in the world.
This two-week program aligns with the 30-year anniversary of the Genocide. It features daily immersive experiences, meant to help participants learn more about the country and its peoples. Participants will meet with genocide survivors and perpetrators, learn about efforts to rebuild and heal, and discuss controversies related to reconciliation, rebuilding, governance, and memory.
Participants will also experience the beauty of Rwanda and its people. In addition to cultural activities, ranging from dance and art to cooking, the tour will visit Akagera National Park for a 2-day safari experience. There participants will see the region's largest protected wetland and many of Africa's "Big Five" animals.
Faculty Expertise
Unlike alumni and continuing education offered at many universities, this experience led by TCNJ's own experts in the field. Dr. Matthew Bender is a specialist in modern African history and regularly teaches a course in the History of the Rwanda Genocide. Dr. Cynthia Paces is an expert in Holocaust history. This tour is an engaged learning experience, not just a vacation.
Program Costs
The program fee of $5,721 includes the following expenses:
Provider program fee ($4,685)
GEO Blue International Medical and Emergency Insurance ($36)
Instructional fee ($1,000) Due as deposit in February 2024
Included in the above costs are:
Housing (hotels, double occupancy, $490 extra single supplement)
All in-country transportation
Weekend safari at Akagera National Park
All entrance fees
All breakfasts plus some additional meals
Excluded estimated expenses include:
Airfare (~$1,600)
Visa (~$50, paid on arrival)
Non-group lunches and dinners
Information Sessions
Join us to learn more about the Rwanda tour.  Two online information sessions are scheduled for:
November 29 at 7pm EST
December 16 at 10am EST
January 3 at 7:30pm EST
Please register for an information session here.  Upon receipt, you will receive a Zoom link.
---
Fulbright Hays Abroad Program
It is our privilege to invite you to participate in a Fulbright Hays Group Abroad Program funded by the US Department of Education and The College of New Jersey: Advancing Core Taiwanese Values in Turbulent Times: A post-COVID Reflection and Curricular Exploration.
This opportunity is open exclusively to staff and administrators from TCNJ's Professional Development School Network who teach or lead in the following areas: social studies/history, art, PE/health, school counseling, and nurses.

Questions? Contact Dr. Celia Liu (liuc@tcnj.edu) or Megan Gordon (gordonm@tcnj.edu) for more information.
Fulbright Hays Grant Opportunity
The Department of World Languages and Cultures at TCNJ received a Fulbright-Hays Group Projects Abroad Program grant to support a group project in Taiwan. The grant will allow TCNJ and its P–12 partner schools in New Jersey to enhance the study of Mandarin and Taiwanese cultural studies. The program consists of a series of preparatory seminar discussions, four-weeks abroad in Taiwan hosted by National Taiwan Normal University, and post-departure reflection and curricular reform workshops. After engaging in the seminar, participants will infuse content into their existing curriculum and/or develop new curriculum.
---
Educational Leadership
Supervisor Certificate (fully online)
Through Off-Site Graduate Programs, candidates can complete the 12-credit (four class) Supervisor Certificate online in just one year.  This program is a focused course of study in supervision and curriculum and prepares teachers to earn a NJ Supervisor Administrative Certificate.  Candidates must hold or be working toward a master's degree to participate in this program.
For academic advisement, consult Dr. Linda Mayger (maygerl@tcnj.edu).
» Enroll in the Supervisor Certificate Program
» Pre-Register for Classes After Enrollment
Online Schedule
Summer Term (Two Sessions)
CURR 514 Curriculum Theory and Practice
EDAD 617 Advanced School Leadership and Supervision
Fall Term
SUPV 520 Staff Supervision
Spring Term
CURR 555 Advanced Curriculum
Benefits
Classes meet synchronously on weekends only
Ability to study alongside New Jersey and international teachers and school leaders
Discounted, off-site tuition (please see details here)
Teacher Leader Certificate (District-Based Courses)
Through an integrated and thoughtfully sequenced 15-credit series of five courses, the Teacher Leader Certificate Program prepares teachers for non-supervisory leadership roles, such as facilitator, coach, and professional developer.
Interested? Contact Megan Gordon (gordonm@tcnj.edu) for more information on developing a Teacher Leader Certificate cohort in your school district.
---
Teaching English as a Second Language/Bilingual Education
Master of Education (M.Ed.) and/or Certificate Programs
TESL and/or Bilingual Education Certificate Program (Traditional Cohort, 1/course semester)
The TESL program offers a track for pre-service participants (21 credits, an initial certification program for those not certified in an instructional area) as well as in-service teachers (15 credits, as an endorsement certificate for those who hold a CEAS or Standard certificate in an instructional area).
The Bilingual Education program provides the necessary courses for certification as a bilingual teacher in the state of New Jersey. This endorsement program (12 credits) is only for already-certified teachers.  Teachers seeking Bilingual endorsement often also pursue TESL endorsement as it requires the completion of only one additional course.
Program Planner for M.Ed. and Certificate Programs
Please refer to the program planner for all course requirements.
Questions? Contact Dr. Yiqiang Wu (wuyiqian@tcnj.edu) for traditional cohort information or Dr. Solange Lopes-Murphy (murphys@tcnj.edu) for accelerated cohort information.
---
Urban Teacher Residency Program
Elementary, Secondary, Teaching ESL
Become an Urban Educator with TCNJ's Urban Teacher Residency Program
Earn a TCNJ Master's of Education in a NJ State approved certification area
Open to anyone with a BA/BS and wants to become a teacher GPA requirements in effect
Diversify the field with more teachers of color
Recruit for hard-to-staff areas such as math and science
Prepare teachers who can improve the academic achievement of Black and Latina/o students in urban schools
Questions? Contact Dr. Salika Lawrence (lawrencs@tcnj.edu), Professor & Campbell Endowed Chair of Urban Education