Stuart Carroll
Associate Professor; Director of Graduate Global Programs
Stuart has been with TCNJ for over 14 years. He received his B.A. in History with a minor in French from the University of Manitoba. Later, he received his Ph.D. in Teaching and Curriculum from Syracuse University.
A few interesting things about Stuart are that he will only write with a Fountain Pen, he is obsessed with The Nightmare Before Christmas, and has a brother who was a finalist on the game show "Canada's Smartest Person."
Favorite Travel Site: "I love them all equally."
Silly Quote: "What you expect, you get; what you expectorate, you lose" (we used to say this in Junior High).
Six-Word Biography: "Never shuts up, except when eating."
---
Megan Gordon
Assistant Director
Megan has been with Off-Site Graduate Programs since 2011. She completed her B.A. in English Literature at Skidmore College and her M.A. in Counseling (Higher Education focus) at Montclair State University. Megan writes, "I am thrilled to be a part of an academic office that promotes international education. I have always loved the curiosity and adventure that comes from travel and have been fortunate to visit 5/7 continents so far; there are still so many areas of the world left to explore!"  Megan and her husband are proud parents to a spirited toddler and a mellow Labrador Retriever, and they enjoy spending time outdoors and traveling together.  Additionally, Megan's interests include going to the theater, reading, trying new restaurants, and almost above all, searching for the world's best ice cream.
Favorite Travel Site: Too difficult to narrow down!
Silly Quote and six-word-memoir (all rolled into one!): "I want to go to there." – Liz Lemon, 30 Rock.
---
Devon DiBella
Program Coordinator
Devon DiBella has joined Off-Site Graduate Programs as the new Program Coordinator. Devon holds a Bachelor of Science degree in Interior Design from Drexel University and has 13 years of experience in marketing, finance, and business administration. She most recently worked in TCNJ's Office of Finance & Business Services as a Purchasing Specialist. Devon serves as a member of the Day of Service Committee, Facilities & Construction Planning Council, and Special Events & Community Building Committee. She is also on the Executive Board for TCNJ Staff Senate as well as the Vice President of CWA. In her free time, Devon enjoys cooking, reading, traveling, going to the movies, and watching & playing sports.  She also volunteers her time within the Hamilton community.
Silly Quote & Six-Word Biography: "I love smiling! Smiling's my favorite!"  -Elf
Elizabeth Sims-Pottle
Program Specialist
Elizabeth joins OSGP as the new Program Specialist. She earned a BA in Elementary Education and a M.Ed. in Special Education from Arizona State University. In 2005, she completed her Ed.D. at Lehigh University. Before coming back to TCNJ, Elizabeth worked as an adjunct for Lehigh University, managed family programming at Special Olympics of NJ, created curriculum for the Family Support Center of New Jersey, and oversaw a literature grant at People and Stories/Gente y Cuentos. Her current academic interests involve best practices in inclusion education for individuals with autism. Elizabeth has always had an affinity for international education and is excited to be reacquainted with global programs again. When she is not working, Elizabeth enjoys spending time with her husband and two children, traveling to new places, lunch with friends, and yoga.
Favorite Travel Site: a toss between Burgas, Bulgaria and Addis Ababa, Ethiopia
Silly Quote: "Yada Yada Yada." – Seinfeld
Six Word Biography: "Live this moment, not the next."
---
Justina Del Rio
Graduate Assistant
Justina Del Rio is our newest addition to the office of Off-Site Graduate Programs as our Graduate Assistant. However, she is no stranger to our campus. Justina received her undergraduate degree from TCNJ in Psychology and is currently working toward her M.A. in School Counseling.
When she's not on campus, you can usually guarantee she's outside exploring new places and cities, hiking, running or playing basketball with some of her team mates. Although she is very active, Justina confesses about her other passion, food," I am such a foodie and will basically eat anything! I'm always willing to try new and unique restaurants!"
Favorite Travel Site: Valladolid, Mexico
Silly Quote: "Today I will be happier than a bird with a french fry!"–Toni Nelson
Six-Word Biography: Why not color outside the lines?
---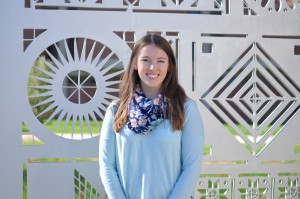 Jenna Maurer
Project Manager
Jenna is a senior here at TCNJ, studying Urban Early Childhood Education and Psychology. She enjoys spending time with friends, going on adventures, and trying new food.  Jenna quotes, "Being fortunate to travel a lot as a young child has instilled in me a love of getting to know people who are different than me, and exploring places where I have never been." She is passionate about issues of social justice, and has a desire to improve the educational experiences of students in urban areas. Jenna looks forward to many new adventures in the remainder of her undergraduate career at TCNJ and beyond!
Favorite Travel Site: Almaty, Kazakhstan
Silly Quote: "Sometimes you gotta work a little, so you can ball a lot" –Tom Haverford
Six-Word Biography: Do what makes you come alive!
---
Tim Hall
SELL Grant Coordinator
In addition to serving as an adjunct instructor in the TESOL program, Timothy coordinates efforts for our "ESL Grant", which creates opportunities for NJ teacher certification in English as a Second Language. With a BA in French Studies from Bristol University in the UK, an Ed.M in TESOL from The College of New Jersey, he is currently completing a Doctor of Education in Second Language Acquisition at Teachers College, Columbia University. "It is a privilege to have an opportunity through the federal grant and through adjunct assignments to contribute back to the program that set me on my career path," Tim writes, "I have been lucky to have a strong education, and I wish to provide the same for others."  In his free time, Tim is also the proprietor of The Ship Inn, New Jersey's first brewpub, located up the Delaware River in Milford.
Favorite Travel Site: most remote mountain villages in Western Europe
Silly Quote: "I've got a brand new combine harvester", The Wurzels
Six-Word Biography: "Another pint of Best Bitter, please"
---
Debra Billman
SELL Grant Coordinator
Debra Billmann is an adjunct instructor in addition to working on the ESL Grant.  She is passionate about helping English Language Learners and has worked extensively with students and teachers to further their understanding about the language learning process.  Debra completed her B.A .in German and Philosophy from Westminster College in Pennsylvania and earned her M.Ed. in TESOL from The College of New Jersey.  She is currently working toward her doctorate in Educational Leadership at Lehigh University.
Favorite Travel Site: Aran Islands, Ireland
Six-Word Biography: Of course I can do that!